New EMC KNOW-HOW WEBINAR​
ECE R10 standard - EV Full Vehicle EMC Testing ​
Learn about the requirements of ECE R10 and how you can meet the challenge.​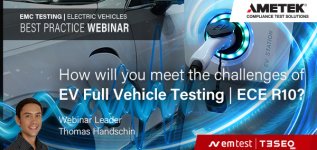 Register now for our free webinar on May 25th at 18:00 IST
Electric vehicles employ leading-edge technologies to manage every aspect of a car's performance and safety. However, these systems can generate, and are vulnerable to, electrical disturbances that can potentially be disruptive and dangerous to the technology used.
ECE Regulation R10 covers the requirements regarding immunity to radiated and conducted electrical disturbances. However, compliance testing to this standard is very complex. This is especially true for EVs, which often require new test setups, and higher performance test equipment, to simulate the wide range of electrical disturbances needed to test for weaknesses in high voltage and low voltage components and systems.
Join our free webinar on May 25th at 18:00 PM IST, and get a better understanding of ECE R10 and the associated EMC test requirements.
Webinar topics
ECE R10 for electric vehicles – what is the difference?
test setups for AC and DC charging – where is the challenge?
conducted emission measurements (harmonics and flicker)
conducted immunity tests (surge and burst)
Register now
for our free webinar on May 25th at 18:00 IST
About the webinar leader – Thomas Handschin
Thomas Handschin is a specialist in electric vehicle EMC testing and is involved in numerous EV testing projects in Europe. He holds an engineering degree in mechatronics and works as a product manager for Ametek CTS. He is also an IEC working group member and is actively involved in the development of harmonics and flicker standards.